Mon 19 April 11:00 BST/12:00 CET
Online
Available from
19 April 11:00 BST/12:00 CET – 4 May 18:00 GMT/19:00 CET
This score expands on our project series Amplified Edition (2019) that works with the secondary objects of the theatre space. To reveal what is usually in the background or hidden, Amplified Edition explored hierarchy and co-dependency, allowing the elements of the theatre to meet in illogical ways.
This score will delve into similar principles working with and within the domestic space. How do we relate to our homes its objects, sound and architecture? What are the conventions, limitations and habits? Can we can act together differently?
The score explores the choreographic potential in the interaction between the body, the objects, and the sound. The participant are lead through a series of activities instructed to engage with their space in new and at times unconventional ways. We will observe, merge with, become extensions of and reconfigure our spaces to make room for viewing our domestic spaces a fresh. Taking different approaches to relationality, the score opens up for ways to move beyond the stable, normative and specific.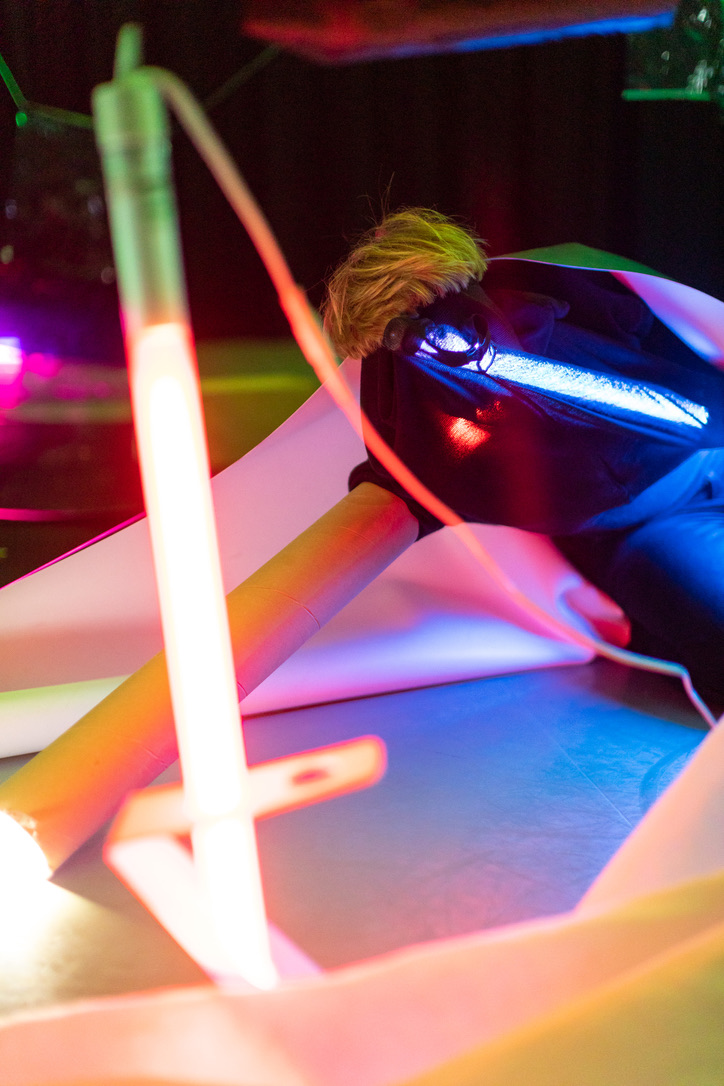 H2DANCE
H2DANCE is choreographer/ performer duo Hanna Gillgren (SE) and Heidi Rustgaard (NO), working between Norway, Sweden and the UK since 1999. Their work sits in between performance and dance and can be characterised as interdisciplinary. Hanna and Heidi have an ongoing fascination with meetings of differences, exploring ways in which we negotiate hierarchy, conformity, power and manipulation. Taking their own collaboration as a starting point, the work explores two distinct and different characters and voices co-existing, agreeing to disrupt each other during process and performance. Interested in deconstruction, breaking down the hierarchy between performers, light, set, sound and costume, their work is presented in and outside the black box, sometimes with Hanna and Heidi as performers, and other times in collaboration with professional dancers and amateurs. Their work is often informed by workshops and conversations with people of different ages and backgrounds, and these encounters influence and inform the ideas and aesthetics of the work.
They have toured their performances and projects across the UK and internationally and been resident at Rosendal Teater, Black Box Teater and DansiT, Norway; Nordic House, Iceland; Dansens Hus, Sweden; Taipei Artist Village, Taiwan; Gaara Dance Foundation, Kenya; Dance4, METAL, Dance East, and The Place in the UK.
They are currently developing Amplified Edition N° 2, the second project in the Amplified Edition series (2019) which will premier at Rosendal Teater 2021. This work will tour alongside their works Strangers & Others (2017), DUET (2013), and Say Something (2011). In 2018 they founded Fest en Fest (2018/2020), curating & presenting touring works, workshops, talks, and artist-led gatherings presenting Nordic & British choreographers.
Awards:
The Place Prize for Dance, Audience prize 2013 with DUET.
IMZ Dance on Screen Award 2005 with GOLD (director: Rachel Davies).
Shrinking Cities competition (German Federal Cultural Foundation and Archplus) 2004, with the project "Cow – the udder way". In collaboration with architects What if –projects, choreographer Susanne Thomas, architect Eike Sindlinger and filmmaker Paul Cotter.