Tues 20 June, 8pm
Sadler's Wells Fox Garden Court Cafe Rosebery Avenue London, EC1R 4TN
Doors at 7.45pm
Food and drink provided


A dinner conversation between artists and curators of My Wild Flag Stockholm Sweden Pontus Petterson (SE) and Karina Sarkissova (RUS/SE). Vegetarian or vegan meal plus a glass of wine included with ticket.
Over dinner, Pontus and Karina will talk about their curatorial approach to My Wild Flag, and how they see their artistic practice being intertwined with the curatorial.
My Wild Flag is an annual dance and choreography festival in Stockholm, happening in early September since 2017. The festival offers international and local acts working with experimental formats and intersectional perspectives. The festival is curated, organized and produced by Karina Sarkissova and Pontus Pettersson. MWF can be seen as a choreography in itself, were different communities engaging in social choreographies as well as works made for the stage. MWF is a nomadic and artist run festival meeting in a new context and space every year. The festival wants to expose and address urgent themes: bodies, thinking and beings that disturb and embrace the ways in which we perceive the world.
My Wild Flag has joined forces with the organizations and theaters such as Weld, Danscentrum Stockholm, c.off, ccap, MDT, Hallen i Farsta, Dansens Hus, Uniarts and The Blob as well as showing works by artists such as Tiran & Nkisi, Davi Pontes & Wallace Ferreira, Louis Schou Hansen & Karoline Bakken Lund, Malik Nashad Sharpe, Tamara Alegre, SERAFINE1369, Museum of Impossible Forms, Suutoo, Adam Seid Tahir, Rip Me, Jafar The Superstar, Galerie, Hellfun, Dinis Machado, Frédéric Gies, Deborah Hay, Florence Peake, Eve Stainton, Adham Hafez Company/ HaRaKa Platform, Performance for Pets , Florentina Holzinger, Jen Rosenblit, Michele Rizzo, Ceylan ÖztrÜk, Nadja Hjorton, Angela Goh, Paula Chaves Bonilla & Thais Di Marco, Rani Nair, QUARTO, Ofelia Jarl Ortega, PRICE, Maryam Nikandish, Netti Nuganen.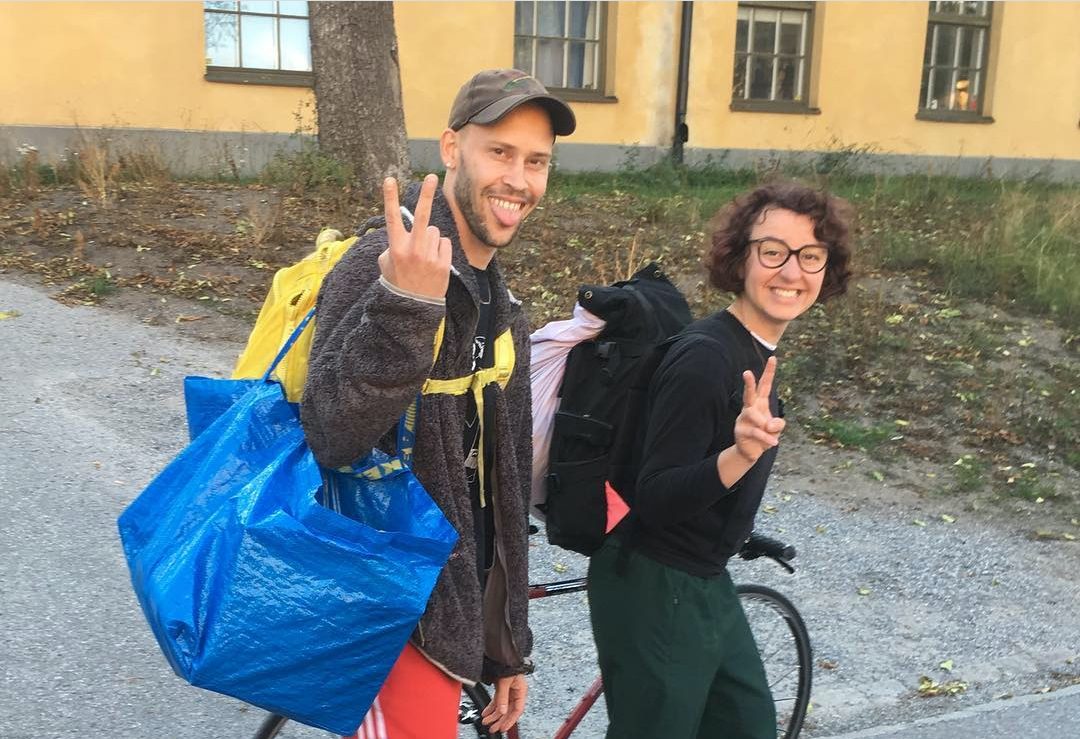 My Wild Flag
Pontus Petterson and Karina Sarkissova
Karina Sarkissova is a choreographer, dramaturg and curator based in Stockholm. She graduated in 2012 from the School for New Dance Development in Amsterdam (SNDO) and in 2019 from Dutch Art Institute (DAI). Karina is a co-founder of höjden in Östberga, a house for artistic production. Karina's practice is dramaturgical, choreographic and curatorial; she is regularly working with other artists' work and develops choreographic contexts.
Pontus Pettersson is a Swedish artist, dancer, curator and choreographer with dance training from the Danish National School of Performing Arts and a master's degree in choreography from SKH and in visual arts from Konstfack. Applying choreography, the body and movement to everything he does, his work ranges from installations, poetry and fountains to cat practicing, fortune telling, curatorial projects as well as dance on and off stage