Tues 22 Nov, 12–5pm and Wed 23 Nov 2022, 12-8pm
APT GALLERY
6 Creekside, Deptford
LONDON, SE8 4SA
Tel: 020 8694 8344
See Map
Exhibition
Tue 22 Nov, 12–5pm
Wed 23 Nov, 12–8pm

Performances (8mins)
Wed 23 Nov, 5pm and 7pm
Its contours, Its movements is a two-day exhibition by artist and choreographer Joe Moran bringing together a new configuration of film, spray paint drawings and performance together navigating notions of disruption, complication and unfixity.
Drawing is an established part of Joe Moran's choreographic work often deployed as instructional scores or as a means of documenting, processing or thinking further. During a series of artist residencies over the 18 months prior to lockdown, Joe experimented with extending his drawing practice in the spirit of expanded choreography – addressing the choreographic as a form, subject and discipline that may be distinct from dance and dancing. For this exhibition, Joe presents several spray paint drawings in varying scales from this new body of work, in counterpoint to his recent film work Materiality Will Be Rethought, presented for the first time as a large-scale installation, and two live performances of his short work Thirst.
Commissioned by Whitechapel Gallery, in dialogue with artist Carlos Bunga's exhibition Something Necessary and Useful, Moran's 30min film Materiality Will Be Rethought navigates dance's potential to animate and disrupt architectural space, physicality of the voice and the moving body as a site of political unrest and complex subjectivities. In Thirst, two performers navigate a complex, shifting terrain of power, submission, complicity and consent. In a singular physical act, one moves from lying to standing to lying, mounted by another who never touches the floor.
Its contours, Its movements is accompanied by a commissioned exhibition text by Tom Hastings.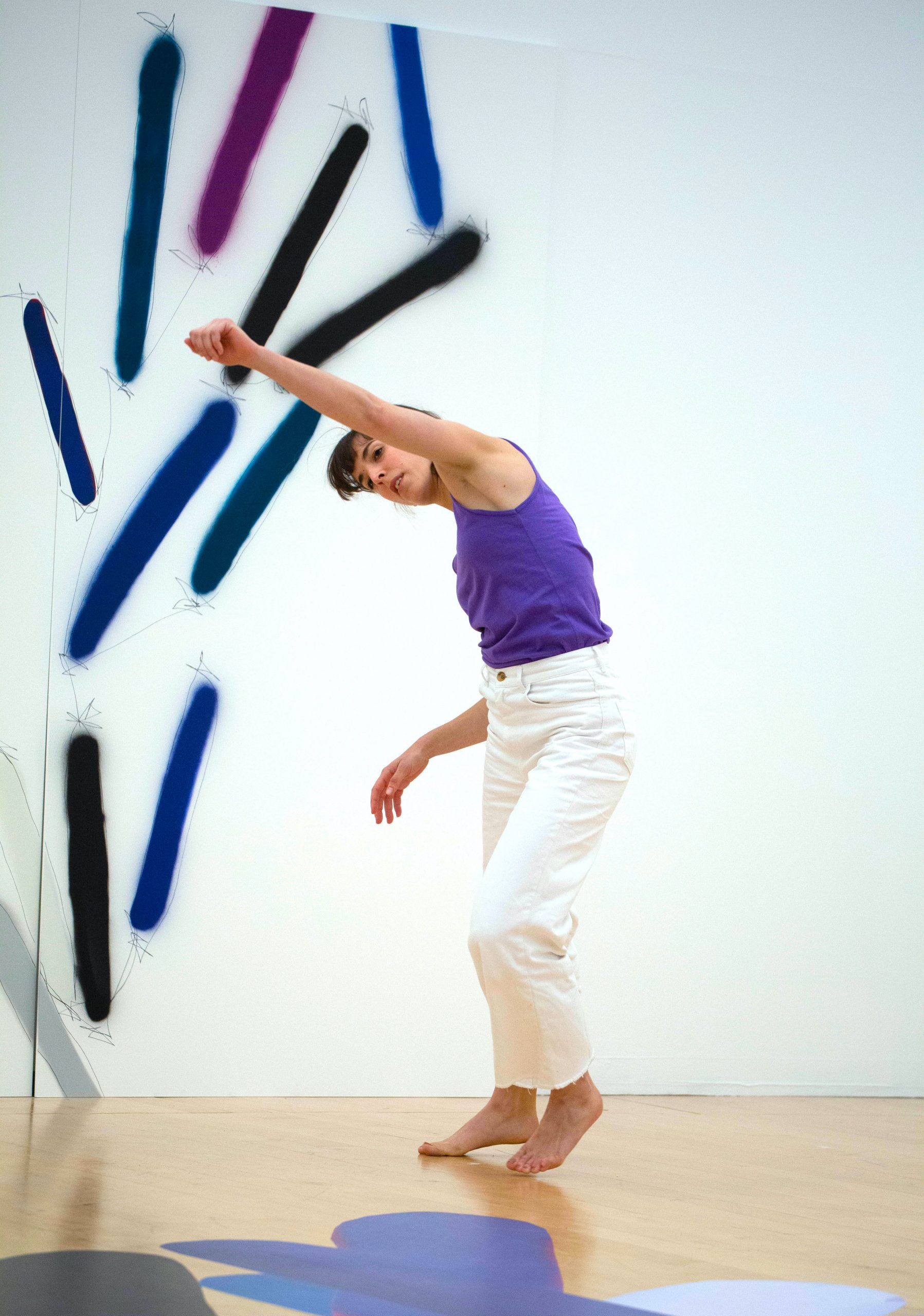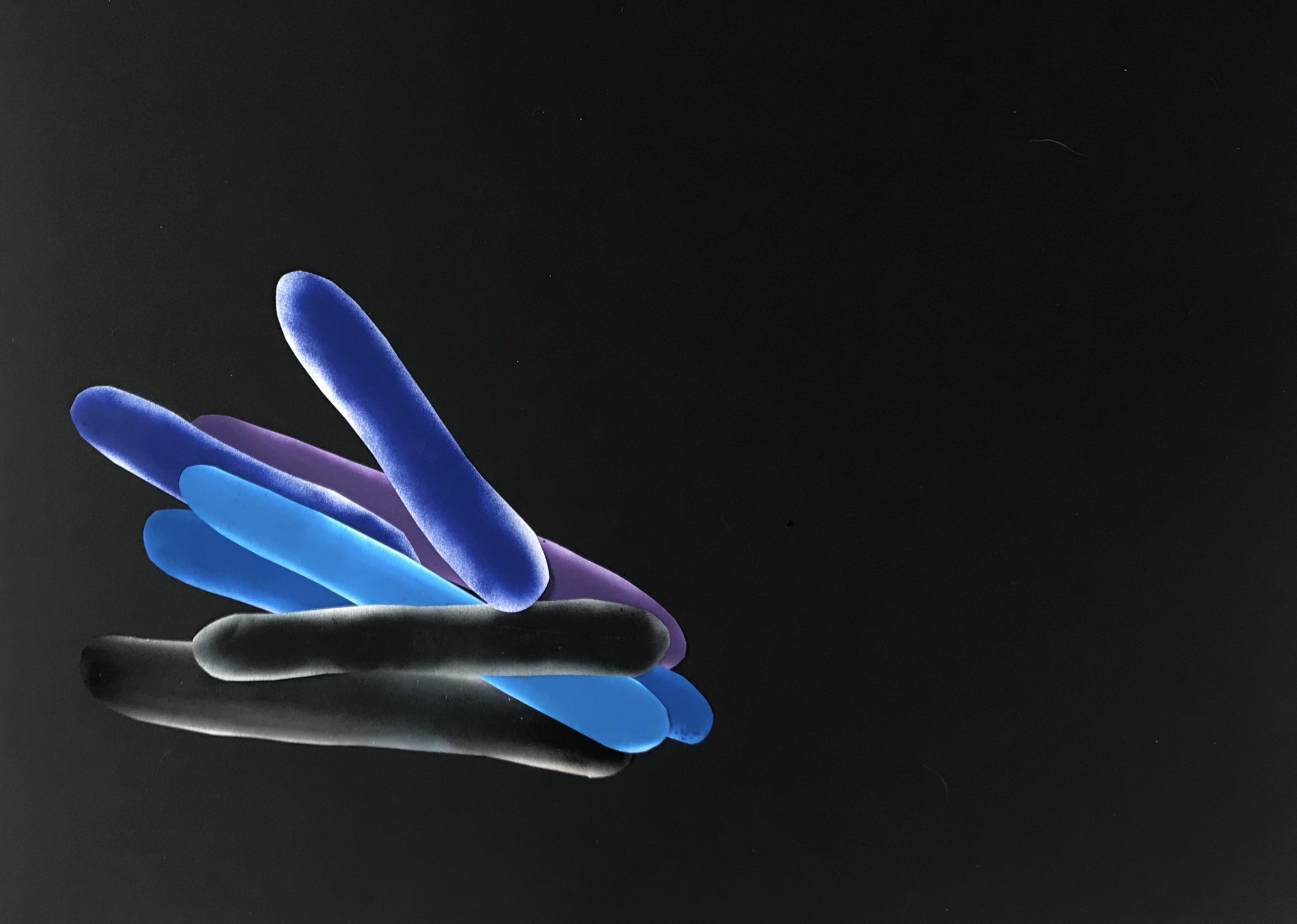 Its contours, Its movements is produced by Joe Moran/ Dance Art Foundation in partnership with Fest en Fest 2022. Research and development supported by Art Council England (DYCP award) and artist residencies at Wysing Arts Centre, LaunchPad LaB and The Lowry (EDIT.04 gallery residency).
Materiality Will Be Rethought: Director, choreographer and producer: Joe Moran. Dancers: Temitope Ajose-Cutting, Thomas Heyes, Sean Murray, Eve Stainton. Producer: Rodrigo Penalosa Pita. Editor: Sue Giovanni. Cinematographer: Alana Mejía González. Sound Recordist: Nick Olorenshaw. Steady camera operator: Matteo Zenini. Camera Assistant: Guillem Zamora Bachs. Photography: Camilla Greenwell. Research contributors (dancers): Hannah Adams, Flavien Cornilleau, Greta Gauhe, Alicja Nauman, Lucie Palazot, Keity Pook, Fanny Pouillo and Elena Rocio Chacon Sampano. For Whitechapel Gallery/ Carlos Bunga: Something Useful and Necessary: Artist: Carlos Bunga. Public Programmes Curator: Jane Scarth. Exhibition Curator: Emily Butler. Curatorial Assistant: Inês Costa. Commissioned by Whitechapel Gallery and produced by Joe Moran/Dance Art Foundation with additional support from the Arts Council England Emergency Response Fund and the Joe Moran Performance Patron circle: Frank Krikhaar and those who wish to remain anonymous. Texts excerpts are taken from The Coming Insurrection by The Invisible Committee and Judith Butler's Bodies that Matter: Discursive Limits of Sex.

Thirst: Choreographer: Joe Moran. Dancers: Karl Fagerlund, Samir Kennedy, Christopher Owen, Sean Murray. Fest en Fest cast: Samir Kennedy and Sean Murray. Developed during research supported by Arts Council England, Sadler's Wells, Cockayne – Grants for the Arts and Dance Art Foundation private patrons.
Joe Moran
Joe Moran is a British-Irish artist and choreographer living in London with a wide-ranging practice incorporating performance, critical writing, drawing, curation and advocacy projects. His work centres the body and embodied presence as a site of complex subjectivities and political unrest, with queering frequently deployed as its principal critical strategy. His work is informed by a background in improvisation and experimentation, and a fascination with the problems and opportunities of formal choreographic composition and notions of expanded choreography. Recent and upcoming performances and screenings include Tanzfestival Winterthur, Switzerland (Nov 22), Festival Internacional de Videodanza, Mexico (Oct 22), Tanzhaus NRW for Tanzmesse 2022, Dusseldorf (Sept 22), Tanzwerkstatt Europa, Munich (Aug 22), Haus der Kulturen der Welt, Berlin (Aug 22) and Rencontres Internationale, Paris (May 22). Joe has worked internationally as a dancer with choreographers Deborah Hay (USA), Siobhan Davies (UK, Bank Project), Florence Peake (UK) and Pontus Pettersson (Sweden) amongst many others.
Joe is Artistic Director of Dance Art Foundation through which his performance, organising and curatorial work is produced. This work involves organising and advocacy that centres independent artists and collective action for systemic change.