Fri 7 Feb, 7.30 pm
Laban Laurie Grove
Studio 2
SE14 6NH
Memory, Ritual, Scattered Song
Collaborative process across performance disciplines, physical and virtual borders.
Collectively Mele Broomes, Ashanti Harris, Tseliso Monaheng and Healer Oran explore the body as a repository of incorporated histories which are both internalised and externalised. Ghost Dimensions explores themes of Identities, imposing architecture and the environments we move in. Experimenting with visibility, Ghost Dimensions asks; Who is seen? How are they seen? Through what lense? On what platform?
Project X's unique synergy of contemporary diasporic dance and performance techniques, with Healer Oran's electronic soundscape, and Tseliso Monaheng's abstract cinematography, combine to create a form which is flexible, adaptable and transformative.
Mele Broomes and Ashanti Harris (of Project X) in collaboration with Healer Oran and Tseliso Monaheng
Direction & Performance – Mele Broomes
Direction & Performance – Ashanti Harris
Cinematography – Tseliso Monaheng
Composition & Sound Design – Andrei van Wyk
Sculptural Costume: Architectural bombers – Tabane Hlahats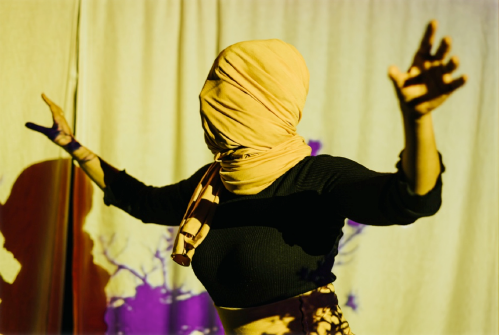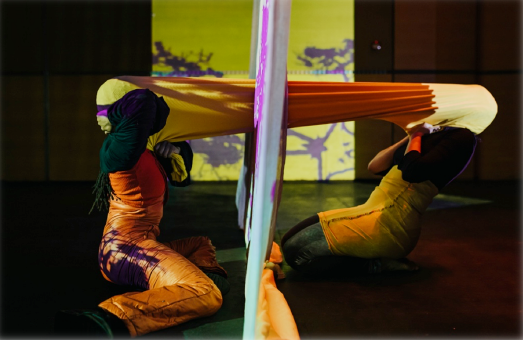 Project X
Project X are a non-profit community interest company working on a projects by projects basis. We celebrate and champion dance and performance within the African Caribbean Diaspora in Scotland. Through workshops, performances, artistic opportunities, discussions, screenings, a symposium and more, Project X platforms these contemporary and traditional dance forms broadening perceptions and representation.
Project X is co-founded and runn by Mele Broomes, Ashanti Harris and Rhea Lewis
Mele Broomes
Mele Broomes founder of V/DA an award winning choreographer and performer being presented the Total Theatre Award in association with The Place for Best Dance at Edinburgh Fringe Festival 2018 for VOID. Mele is co-director of Project X Dance. Mele is a choreographer, director, dancer, activist and experimental vocalist. Mele embodies stories from the collective consciousness. Creating visceral and sensory collaborations through her ancestral inheritance. Activating social questions. Remembering and celebrating.
variousdanceartists.co.uk | melebroomes.com
Ashanti Harris
Ashanti Harris is a visual artist, teacher and researcher, working with dance, performance and installation. With a focus on recontextualusing historical narratives, Ashanti's work dissects epistemologies of mobilities – the movement of people, ideas and things and the wider social implications of these movements, specifically in relation to the diaspora of West Africa and the Caribbean. Ashanti is a co-director for Project X, and works collaboratively as part of the collective Glasgow Open Dance School (G.O.D.S) – facilitating movement workshops, research groups and collaborative performances.
Healer Oran
South African Andrei van Wyk aka Healer Oran is a musician and sound artist with a focus on experimental composition, muzak and the relations between sound, noise and music within the context of human experience. He performs in the Experimental Jazz band The Wretched and as a solo artist with his industrial-noise project Healer Oran. van Wyk's sound work has been included in the Basha Uhuru Freedom Festival, the FNB Joburg Artfair, and Sound in Art Processes, Keleketla! Library (2015). Performed in Invisible Cities (2014); Edge of Wrong (2015/7); AMAZE festival (2016) and is a contributing musician to Mute Sounds' 1 minute autohypnosis Project. He has collaborated on We felt a Rumble, you won't believe what happened next: 'TO BE DETERMINED, GoetheonMain; (2016) and at Kunstefees, Bloemfontein (2017).
Tseliso Monaheng
Tseliso Monaheng is a South-African artist who works across mediums of writing, photography, and videography/video editing. His written work has appeared in print and on-line publications; he has contributed to outlets such as Guardian (UK), The Fader (US), Red Bull (UK & SA), Chimurenga, Rollingstone, Africasacountry, and more. His films around health and fashion – A Gentle Magic (2018); #SUBS: Exploring Braamfontein's Fashion Stereotypes (2017) — have screened to audiences on five continents, and his photography work regularly appears in print and on-line publications, and on albums by some of South Africa's leading musicians.