saturday 23 June 2018, 8.30pm
The Albany, Deptford
Imagine hearing movement and seeing sounds. In Me Too, handbells and movement melt into a beautiful, clear and tangible synthesis. Helgebostad/Rueslåtten have created a piece based on the sound of acoustic hand bells and physical movement. We are hearing movements and seeing sounds as colours, energy and three dimensional singing and dancing sculptures in space. The dancers conjure up a collective movement that constantly transforms itself, like an eternal metamorphosis. They melt together handbells, bodily movement, scenography and light into a black box landscape of materialized energy.
ME TOO premiered at Dansens Hus (Oslo) in 2015, and has since been selected for the International Aerowaves Network 2016 and nominated for the Norwegian Critics Prize 2015. Touring include 4+4 days in Motion festival (Prague) / BIT Teatergarasjen (Bergen) / Spring Forward Festival (Århus) / Ice Hot Nordic Dance Platform (Copenhagen) / WHYNOT Festival (Amsterdam) / Avant Garden (Trondheim) / Ravnedans (Kristiansand) / Bodø Biennalen (Bodø) / RAS (Sandnes) / BORA BORA (Århus) / DanseFestival Barents (Hammerfest)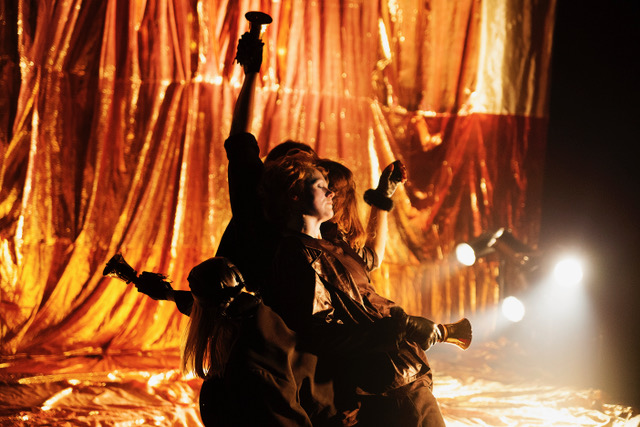 Concept: Kristin Ryg Helgebostad and Laura Marie Rueslåtten
Performers: Marianne Kjærsund, Sigrid Hirsch Kopperdal, Irene Theisen, Pernille Holden and Laura Marie Rueslåtten.
Choreography: Kristin Ryg Helgebostad
Composer: Laura Marie Rueslåtten
Light Design: Martin Myrvold
Costume Design: Thale Kvam Olsen
Outside Eye: Hooman Sharifi
Music Consultant: Ole Henrik Moe
Photography: Simen Dieserud Thornquist
Video Documentation: Vibeke Heide
Co-production: Dansens Hus
Supported by the Norwegian Arts Council / Fund for Performing Artists / Fund for Sound & Visuals
Kristin Ryg Helgebostad
Kristin Ryg Helgebostad (b.1984) is a Norwegian performer and choreographer based in Oslo. She welcomes a diversity of performative and choreographic strategies into her work and is working in several collaborations both as a performer and a choreographer. Artists she has been working close with for a long time includes Ingeleiv Berstad, Laura Marie Rueslåtten, Eivind Seljeseth, Chrisander Brun, Ida Wigdel and Tormod Carlsen.
With Berstad/Helgebostad/Wigdel she developed SOIL GIRL which has toured extensively in Europe and Norway. Their latest piece SPOILER premiered at Black Box Theatre in Oslo in February 2017 and is currently touring. Upcoming works include NIKULPMYRENE in collaboration with Lisa Lie, which will premiere in 2018. With carillionist Laura Marie Rueslåtten, Kristin has created ME TOO. Since the premiere at Dansens Hus (Oslo) in 2015, it's been nominated for the Norwegian Critics Prize 2015, selected for Aerowaves Twenty, Ice Hot Nordic Dance Platform, and toured extensively. CHEERS, a new piece by Helgebostad/Rueslåtten, will premiere at Dansens hus in 2018. Together with Ingeleiv Berstad, Kristin was commissioned to choreograph LOUDSPEAKERS//BIRTHMARK (2015) for the National Company of Contemporary Dance (Carte Blanche). In 2019 they are choreographing a new piece for the company.
Other recent projects include PHANTASMAGORIC with Berstad/Brun/Helgebostad (Dansens Hus 2016), LULLELI FOR FRUHOLMEN FYR with Norwegian Landscape Theatre (Ingøy 2016) and AV HISTORISK GRUNN (Dansens Hus/National Tour 2015-2017) as choreographer/dancer, and works with Ingri Fiksdal, th'Line and more as a dancer.