23 JUNE 2018, 9.30pm
The Albany, Deptford
Fest en Fest Midsummer Party is taking place at The Albany Café and garden. Come and meet with friends, mingle with the festival crowd, and celebrate the longest day of the year with us! Drinks, dancing and performances by Ula Metall (NO) and The Yonis (UK).
Welcome!
Tickets for the party are FREE when you purchase 5 or more tickets to different events OR a ticket to Me Too which is also on Saturday. In order to claim your free party ticket, please ensure you contact box office in advance via phone or in person.
Note: there will be one video camera operator filming through out the evening.
Note: Some tickets will be available on the door, subject to availability on a first come first serve basis. Therefore, we encourage customers to book early to avoid disappointment.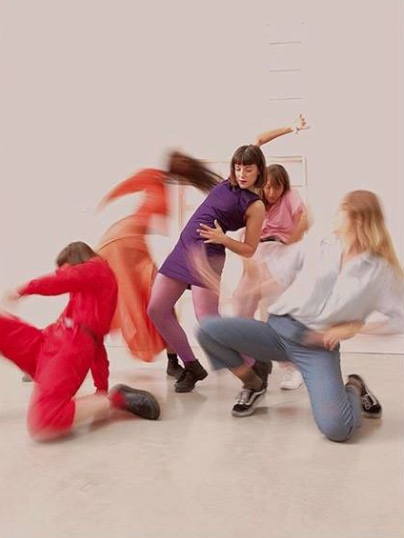 Una Metall
The handbell band Ula Metall is a seven-woman ensemble consisting of Kristin Ryg Helgebostad, Marianne Kjærsund, Sigrid Kopperdal, Pernille Holden, Irene Vesterhus Theisen, Kristina Søetorp and Laura Marie Rueslåtten. All on handbells and vocals.
The band has its origins in the contemporary dance company, Me Too, who premiered at Dansens Hus in May 2015, and has toured Norway and Europe to include Bergen, Trondheim, Hammerfest, Kristiansand, Bodø, Prague, Sandnes, Copenhagen, Aarhus, Amsterdam and now at Fest en Fest just before The Midsummmer Party. The enormous enthusiasm for singing and playing together has become a strong driving force for the band as an extension of the performance. In a more concentrated and musical (but still surprising) band format, Ula Metall have set themselves the ultimate goal of becoming a warm up band.
The Yonis
The Yonis are a contemporary movement girl band. Inspired by gig culture, The Yonis wanted to recreate the shared feelings of joy, euphoria and togetherness that one feels when watching their favourite band. Their work brings contemporary dance to unexpected places and in doing so encourages audiences to break the audience/performer barriers, to dance with us, enabling a more embodied viewing experience. As an all-female collective The Yonis celebrate their bodies as vehicles to be physical, powerful and dynamic, finding strength in coming together to create, #takespace and #makenoise.